Pallet Deliveries
Deliveries made to the post codes below will be delivered via a pallet courier service.
B, BA, BB, BD, BH, BL, BS, CA, CB6-9, CF, CH, CO1-9, CT, CV, CW, DE, DH, DL, DN, DT, DY, EX, FY, GL, GU28-33, HD, HG, HR, HU, HX, IP, L, LA, LD, LE, LL, LN, LS, M, ME9-14, NE, NG, NN14-18, NP, NR, OL, OX15-18, OX12, OX7, PE1-16, PE20-27, PE30-38, PL, PO, PR, RH15-20, S, SA, SK, SN, SO, SP, SR, ST, SY, TA, TF, TN12, TN17-40, TQ, TR, TS, WA, WF, WN, WR, WS, WV, YO
AB, DD, DG, EH, FK, G, IV, KA, KW, KY, ML, PA, PH, TD

This method of delivery is the same as nearly every nationwide landscape supplies company, so don't be put off, its the same for everyone and 99% of deliveries are successful.
A few things you will need to check in order to have a successful pallet delivery.
Access for a delivery lorry up to 18T - similar size to a dust cart.
No low overhanging trees, narrow gates, or steep slopes.
A hard, level surface for the lorry to park and unload the pallet on to (concrete or tarmac).
Permission to leave a pallet at kerbside if necessary (this is usually fine with most Councils but sometimes worth checking.)
Not expect a crane or forklift.
Delivering by pallet means that we put your bulk bag onto a pallet and load it on to a lorry, then via a network of delivery companies the pallet arrives with you.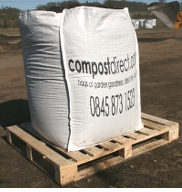 Your local delivery depot will contact you to arrange a convenient time with you to deliver your pallet. This is usually the following day after you place your order.
The delivery vehicle arriving to deliver your pallet will be equiped with a tail lift and manual pallet trolley. The driver will drag the pallet with his trolley onto the lorry tail lift, lower the pallet to the floor then pull the goods off with the trolley onto your hard, level surface.
All drivers are very experienced and always try their best to leave the pallets in the best position, however please consider that each bag weighs nearly 1 tonne so there are limitations as to where the driver can go with the trolley. We can only guarantee delivery to kerbside (if we can do better we will), if this is a problem please be present during delivery to advise or wheelbarrow the goods elsewhere.
The wheels on the trolley are quite small so unfortunately it is not possible for the trolley to move on loose or soft ground such as gravel, soil, grass or un-made roads.
If you are unsure, please call us on 0845 873 1523 and we will advise. As mentioned, 99% of pallet deliveries are succesful and it is the same method that every company uses, so if we cant deliver then it is unlikely anyone else can either!
---